What is an Inter-Territorial Service Agreement?
Reliable Workplace Solutions partners with authorized service dealers who have a broad network across the country and who provide copier services via our inter-territorial service agreement. It allows us to offer installation and on-site services to customers and dealers regardless of their location.

With this type of agreement in place, businesses can enjoy the peace of mind that comes from knowing that their printers will be properly maintained and repaired no matter where they are located. This solution can help businesses reduce downtime and increase productivity by ensuring that their printers are always in good working condition.
The Process of Inter-Territorial Service Agreement
An inter-territorial service agreement contract is fast, straightforward, and hassle-free. Here's the four-step process that explains how it works:
STEP 1

We at Reliable Workplace Solutions will negotiate the inter-territorial service agreement with a partner company that can provide service to your location.

STEP 2

When your device needs a service or repair, the customer places a service call to Reliable Workplace Solutions to report the issue or problem.

STEP 3

We will be in-charge of communicating with our partner company. They will go to your business address and repair the issue on your device.

STEP 4

The customer will receive a bill from Reliable Workplace Solutions, or the repair bill will be covered by your monthly SMA.
The Benefits of Inter-Territorial Service Agreement
Reduce downtime and fix issues right away. With an inter-territorial service agreement contract, businesses and organizations can enjoy these several benefits:
1 - Consistency

Businesses can ensure that their printers are consistently maintained and serviced, regardless of their location. This helps to ensure that the printers operate at peak efficiency and reduces downtime due to printer issues.

2 - Cost-effectiveness

It is a cost-effective solution for businesses that have multiple locations. Rather than hiring individual technicians for each location, businesses can rely on a single service provider that has a broad network of service dealers.

3 - Expertise

An authorized service provider has the expertise to provide high-quality printer maintenance and repair services. By leveraging their expertise, businesses can avoid the cost and hassle of hiring and training their own technicians.

4 - Improved productivity

By ensuring that printers are always in good working condition, an inter-territorial service agreement can help to improve business productivity and reduce downtime due to printer issues so employees can focus on their core tasks.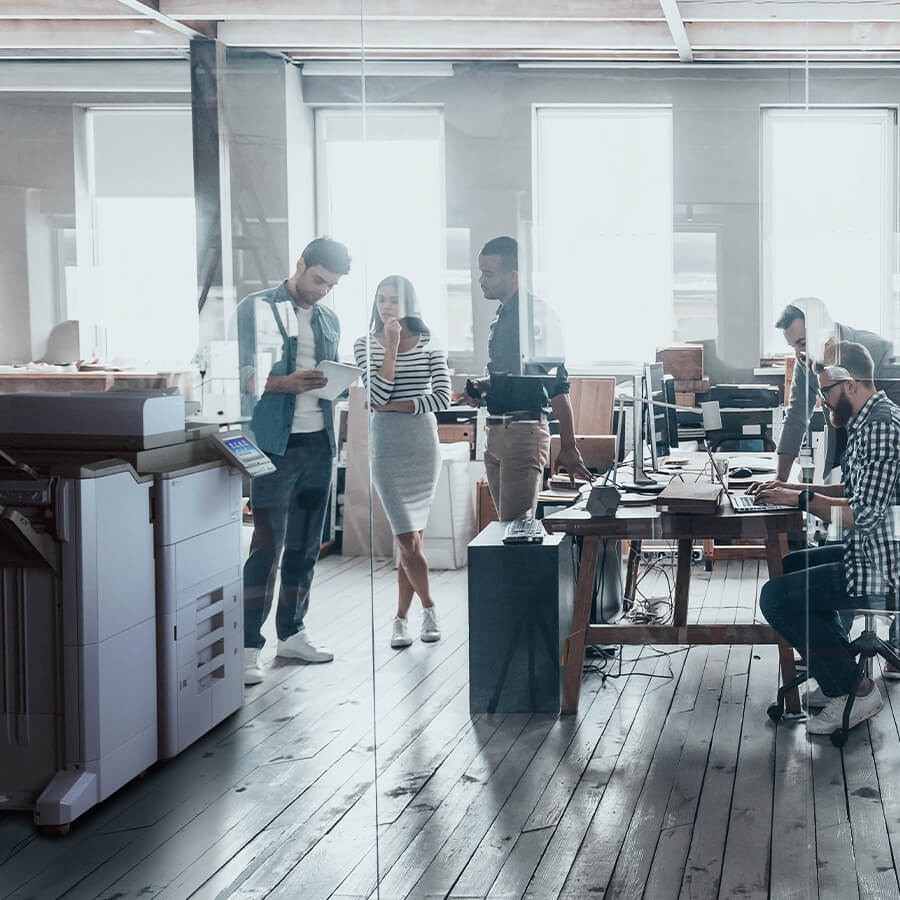 Service Maintenance Agreement
By having a service maintenance agreement in place, Reliable Workplace Solutions can guarantee to minimize copier downtime due to printer malfunctions, which can cause delays and impact business productivity. The agreement will immensely help you save money in the long run by extending the lifespan of your printer's equipment and by preventing costly repairs or replacements.

With our ever reliable SMAs, you can have your peace of mind knowing that your printers are being taken care of by our trained professionals.
LEARN MORE